Extraordinary Council Meeting

23 February 2021
Subject: Harmonisation of Rates.
Prepared By: Daryl Jackson - Chief Financial Officer
Authorised By: Brian Barrett - Acting General Manager
RECOMMENDATION
THAT Council:
1. Acknowledges that the rates harmonisation process is to be implemented before 1 July 2021 in order to comply with the Local Government Act 1993;
2. Receives and notes the Engagement Outcomes Report;
3. Endorses the submission of an application to IPART for approval of the following Minimum Rates to apply from 1 July 2021 –
• Residential - $850
• Business – General - $820
• Business – Industrial - $820
• Business Shopping Malls - $820
• Business Airport - $820
4. Notes that in response to council advocacy, the NSW State Government is introducing a Bill to Parliament that will allow amalgamated Councils to harmonise rates gradually over four years; and
5. Receives a report on options to phase in harmonisation as part of the annual budget preparation process.
Amalgamation and Rates Path Harmonisation
During the Council amalgamation process, section 218CB was inserted into the Local Government Act 1993. This essentially was a transitional provision, requiring all amalgamated councils to continue on their existing pre-amalgamated rating structures for a period of four years from 1 July 2016 through until 30 June 2020. Subsequently, the NSW Government amended the Local Government Act again, extending this deadline until 30 June 2021.
This provision of section 218CB expires at 30 June 2021, meaning that Council will be required to adopt a harmonised rating structure effective from 1 July 2021. Therefore, the rates path freeze will lift and Inner West Council is required by law, to harmonise rates from July 2021.
This requirement to harmonise rates is mandatory, and current NSW legislation does not allow for the harmonisation of rates over a transition period. Furthermore, current NSW legislation does not allow for the continuation of existing pre-amalgamation structures. Council must adopt a new, harmonised rating structure. If Council does not do so, Council will not have a compliant rating structure.
In response to council advocacy, the State Government has prepared a draft bill - the Local Government Amendment (Rating) Bill 2021. If passed by the NSW Parliament, the bill would allow those new councils created in 2016 that have not already harmonised their rating structures to do so gradually over four years. Council provided feedback during the public consultation period in support of the bill. The bill is expected to be introduced into the Parliament in early 2021 and if approved, will come into effect by 1 July 2021.
At the Council Meeting on 11 November 2020, Item Number C1120(1) Item 1 Council received the proposed rating structure and resolved to commence community engagement and to return to Council with the Engagement Outcomes Report.
Community Engagement
The engagement purpose was to inform and seek feedback from the community about proposed changes to the rating structure including establishment of a new minimum rate, due to rates harmonisation as required by the State Government.
The engagement period was 15 December 2020 to 7 February 2021. Council wrote to all ratepayers, promoted the engagement through its communication channels and provided a dedicated page on our engagement platform Your Say Inner West where detailed information and translated material was available. A rates calculator on Council's website allowed ratepayers to compare current rates paid to that which would be paid under the proposed harmonised structure.
The community could provide feedback through an online form, in writing to Council, or via phone call to an Engagement specialist for people without computer access, or who required translation or accessibility support. A dedicated rates email address and a hotline staffed by Rates specialists were established for ratepayers to receive individual advice.
The project generated a high level of interest with 6,979 visitors to the project page, 806 document downloads, 1693 online comment forms and twenty-eight submissions via email and letter from individuals, organisations and companies. There were 11,378 page visits to the rates calculator page on Council's website.
Most respondents were residential ratepayers while 46 business ratepayers made submissions. Most respondents were from the former Marrickville Council (1144) compared to former Leichhardt (335) and former Ashfield (186)
Most respondents did not support the overall structure or the proposed residential and business minimum rates.
Community comments were analysed and themed. There were 10 themes:
1. Unfair/don't understand
2. Services
3. Hardship
4. Method
5. Amalgamation
6. Council finances
7. Information
8. Fair
9. Phasing
10. Former Councils
For the business minimum rate, the main themes were:
· unfair
· businesses should pay more/same as residential
· hardship – business down due to COVID-19; businesses are not paying rent so landlords suffer
· minimum should be higher
· businesses use more services, make money from their land and business rates are tax deductible
· the new structure will discourage businesses from setting up in the Inner West.
Full details including analysis, all comments and written submissions are available in the Engagement Outcomes Report.
Observations about the feedback received
Fairness/Difficulty in Understanding
The majority of people responding characterised the changes as either unfair or difficult to understand. Rating under the Local Government Act 1993 is complicated and somewhat confusing for many people.
The most notable misconception was that the process of Rates Harmonisation would result in Council receiving additional rate revenue in 2021/22. Council will not receive any additional rate revenue as a result of Rates Harmonisation.
What Rates Harmonisation will do is to re-distribute the rate burden based on the Unimproved Capital Value (UCV) of properties. The UCV is determined independently of Council by the NSW Valuer-General and is used for the calculation of a number of taxes including Land Tax and Rates. The value does not represent the developed value of the land (the value with a building and other improvements on it) which is generally what residents view as the real 'value' of their property.
The feedback from former Marrickville residents in particular raised concerns that they were paying more without getting anything in return or were being forced to subsidize the services provided to former Ashfield and former Leichhardt Council residents.
The following information and tables are extracted from the Fact Sheet provided to ratepayers:
Why is the new rating structure fairer?
Ratepayers will pay a fair share of rates based on the value of their land under the new rating structure.
Residential
Currently residential ratepayers in the former Ashfield Council area pay a higher percentage of rates compared to land value while ratepayers in the former Marrickville Council area pay a lower percentage of rates compared to land value.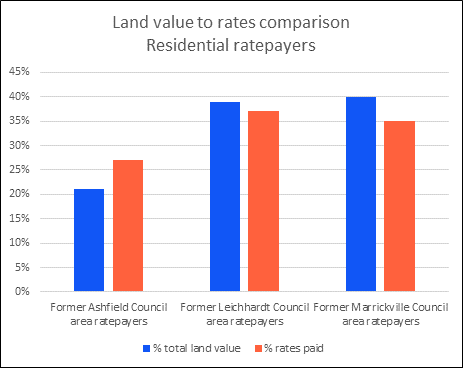 Business
Currently business ratepayers in the former Leichhardt Council area pay a higher percentage of rates compared to land value while ratepayers in the former Marrickville Council area pay a lower percentage of rates compared to land value. "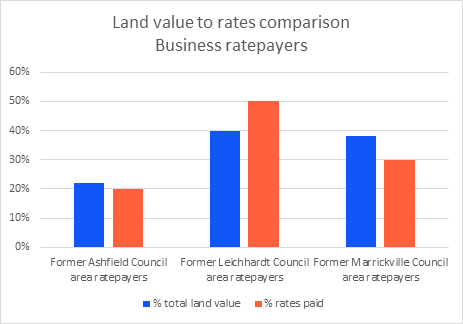 This suggests that former Ashfield and Leichhardt Council ratepayers have been paying more rates than former Marrickville ratepayers when compared to their respective total land value.
This can also be illustrated by the following tables that show the rates that would have been paid at different Unimproved Capital Values (UCVs) across each of the former Council areas and what they are proposed to pay under the harmonised Inner West Council rates structure. Note that the Domestic Management Waste Charge (DWM) incorporated in the tables below is $464 which is a proposed subsidised charge that has not yet been considered by Council for endorsement.
Table 1 – Current rates versus proposed new Inner West rate
RATES ONLY

LAND

Proposed

2020-21

VALUES

IWC

Ash

Lei

Mar

500,000

850

1,229

686

710

750,000

963

1,477

1,008

778

1,000,000

1,284

1,724

1,344

1,037

1,500,000

1,926

2,219

2,016

1,556

3,000,000

3,852

3,702

4,032

3,111

5,000,000

6,421

5,681

6,720

5,185
Table 2 – Current rates, DWM and Stormwater charges for houses versus proposed IWC
NORMAL RESIDENTIAL HOUSE
INCLUDE DWM & SW

LAND

Proposed

2020-21

VALUES

IWC

Ash

Lei

Mar

500,000

1,339

1,677

1,181

1,314

750,000

1,452

1,925

1,503

1,381

1,000,000

1,773

2,172

1,839

1,641

1,500,000

2,415

2,667

2,511

2,159

3,000,000

4,341

4,150

4,527

3,715

5,000,000

6,910

6,129

7,215

5,789
Table 3 - Current rates, DWM and Stormwater charges for units versus proposed IWC
RESIDENTIAL STRATA (Apartment, etc)
INCLUDE DWM & SW

LAND

Proposed

2020-21

VALUES

IWC

Ash

Lei

Mar

500,000

1,327

1,665

1,169

1,301

750,000

1,440

1,912

1,491

1,369

1,000,000

1,761

2,160

1,827

1,628

1,500,000

2,403

2,654

2,499

2,147

3,000,000

4,329

4,138

4,515

3,702

5,000,000

6,897

6,116

7,203

5,776
Note that the difference between house and strata is due to a differential in the stormwater charge.
Legitimate though the above analysis is, that does not assist those former Marrickville ratepayers who will be paying more for what they see as a suite of services that they were already getting from the former Marrickville Council without any increase.
Services
While there is a general perception in submissions that services have deteriorated and that legacy Council residents (particularly former Marrickville) are subsidising other legacy Councils, the reality is that service levels have tended to move toward the highest level previously provided. Many major projects have been completed that benefit the entire Inner West community and continue to be rolled out. As these changes have taken place over time they have not necessarily been noticed or at least acknowledged.
The table below lists new, expanded, or improved service levels in the former three council areas, since amalgamation.
| | | | |
| --- | --- | --- | --- |
| Services either new or expanded; or with improved service levels | Marrickville | Ashfield | Leichhardt |
| Online customer request system with tracking capability, including parking permits, certificates and customer requests | X | X | X |
| Expanded verge mowing service | | X | |
| Mainstreet cleaning (new to Ashfield with improved service levels to Marrickville) | X | X | |
| New Marrickville Library & Pavilion (expanded service) | X | | |
| Introduction of night shift for Resource Recovery | X | | |
| New Ashfield Aquatic Centre with gym, creche and expanded Learn to Swim classes | | X | |
| Steam weed management near sensitive areas (eg. playgrounds) | X | X | |
| Free mattress collection | | | X |
| Food organics collection service | X | X (soon) | |
| Comprehensive audits of Council's Trees | | X | X |
| Development application processing times in former Marrickville LGA were 111 days in November 2016 and Inner West's processing times were 77 days in January 2021 | X | | |
| Architectural Excellence Panel providing expert design advice on development applications | | X | X |
| Expansion of Local Planning Panel enabling expert and independent decisions on development applications | X | X | |
| On-line development application lodgement tracking system | X | X | X |
| Free development applications for solar installations | X | X | |
| Building Certification services | | X | |
| Development compliance service levels halved from 42 days to 21 days | X | | |
| Expanded wellness programs and services in aquatics and the gyms to serve a broader spectrum of the community | X | X | X |
| Duty Building Certification Advice Service | X | X | |
| Pre- Complying Development Certificate Advice Service | X | X | |
| Pro-active Companion Animal patrols in parks | | X | X |
| Provision of Companion Animal Education Services including microchipping and free pet tags | | X | X |
| Pro-active auditing of awnings over public land | X | X | |
| Environmental Auditing of petrol storage and other identified industries (mechanics, spray painters, panel beaters etc) | X | X | |
| Audit and response to external combustible cladding across the LGA | X | X | X |
| Opening of two new Long Day Centres | X | | X |
| Opening of new Emanual Tsardoulias Community Library Dulwich Hill | X | | |
| Significant Refurbishment of Haberfield Library (due to open Autumn 2021) | | X | |
| Installation of new technologies across library network including a floating collection | X | X | X |
| Expansion of Perfect Match program into Ashfield | | X | |
| Establishment of 'Edge' arts program | X | X | X |
| Expansion of wellbeing and community grants and creation of multicultural grants | X | X | X |
| Expansion of free programs for seniors | X | X | X |
| Improved access / installation of lifts at Marrickville, Petersham and St Peters Town Halls | X | | |
Many examples cited by residents tend to focus on streetscape maintenance and cleanliness which are easily observed by residents.
Council has recently reviewed those services and services to the former Ashfield area will now be brought in-house to improve consistency in service delivery and quality. Council has also decided to increase services levels at a cost of $181,000 per annum to improve town centre and related cleaning.
Hardship
Now is not a good time for anyone to find they need to pay more taxes. Some of our residents are without jobs or have lost work hours. Some have lost businesses due to Covid19. Few have received wage rises over the past few years. All are dealing with the aftermath of change brought about by Covid19 and the continuing health and related threats that it poses.
Introducing additional costs is not well timed. Unfortunately, Council has no control over that timing. That was determined by the NSW State Government.
There are three things Council could do to respond to hardship:
· If the NSW Parliament passes laws to introduce rates harmonisation over four years, it could resolve to do that
· Council needs to harmonise its Domestic Waste Management (DWM) service in 2021/22. This is likely to have the effect of increasing charges to former Ashfield and Leichhardt local government area residents and reducing them for former Marrickville residents
· Council could remind residents of hardship provisions it already has in place to deal with families and businesses under financial stress
If Council adopted a DWM charge of $464 in 2021/22 the effect would be to change the rates burden as shown in Tables 1 to 3 above. That is before the effect of phasing the changes in over a number of years is considered. This has a tendency to minimise impacts on those properties with lower land values.
Method
A number of those who responded object to the method Council is required to use to calculate rates particularly the reliance on UCVs. While this is clearly problematic for many residents who struggle with the significant differential between UCVs and market values of properties across the Inner West Council this is not a matter that can be controlled by Council.
Amalgamation
There was an expectation by some residents that amalgamation would result in overall cost reductions and potentially rate reductions. Those in the former Marrickville area expressed surprise that quite substantial rate increases were proposed.
The latter is driven largely by the methodology used to calculate rates. Council is legally required to use that methodology.
As noted under 'Services' there appears to be limited recognition of perhaps subtle changes in service offerings and levels by the Inner West Council. That is quite understandable as people live busy lives and changes happen progressively.
Finances
Feedback in this area tended to focus on misconceptions.
One line of reasoning suggested that Council should use its own finances rather than rely on ratepayers. This cited the net operating result of $82m after grants and $46.5m before grants for the 2019/20 financial year. This was the result of a one-off sale of land. Council's forecast financial result in 2020/21 will return to a deficit of $7.1m.
Council's rate income in 2019/20 was $120m which comprised around 43% of Council's total income which is derived from a variety of sources other than rates. Council continues to look for efficiencies to drive service costs down and for revenue generation opportunities to minimise its reliance on rates revenue.
Information
This focused largely on the helpfulness of information provided during the consultation phase. Information was added to the rates calculator page to clarify that DWM and Stormwater charges were not included in the estimate, to assist residents in comparing the estimate to the amount shown on their rate notice.
Fair
This summarised the feedback from people who largely thought the move to a common system was the only way to be truly fair. The intention is to pursue a harmonised rating system.
Phasing
This feedback suggested that imposing substantial increases such as those potentially to be experienced by former Marrickville residents should be phased in. Council does not currently have the power to do that.
If the NSW Parliament passes proposed legislation to enable Councils to phase in the impacts of harmonization over four years this report recommends that Council does so.
Former Councils
There were a number of observations about the level of rates paid before amalgamation in each of the former Councils and perceptions about former Council areas subsidizing other former areas.
Tables 1 to 3 do suggest residents in the former Ashfield and Leichhardt areas did pay higher rates when compared to overall land values in those areas than those in the former Marrickville area. The proposals to harmonise rates, to offset impacts of increases by harmonising DWM charges concurrently and potentially phasing in rating changes if legislative changes are adopted by the NSW Parliament, will largely respond to many of these concerns.
Shopping centres
Staff will continue to liaise with the organisations who made submissions about shopping centres and report back to Council.
Minimum Rate - Application to IPART
Council through a series of briefings in 2019-20 considered five options for the harmonised Inner West Council rating structure.
The outcome of this process was a proposed Minimum Rate of $850 for residential ratepayers and $820 for business ratepayers. In determining these Minimum Rates, Council considered the principles of equity, user pays and capacity to pay.
The intention is to ensure equity in terms of use of council resources and services, compared with the rates paid, and to narrow the gap between the lowest rate paid, and the average and median rates paid by ratepayers.
The proposed Minimum Rates are appropriate for the Inner West and reasonable in comparison to Sydney Metro councils as shown in the table below.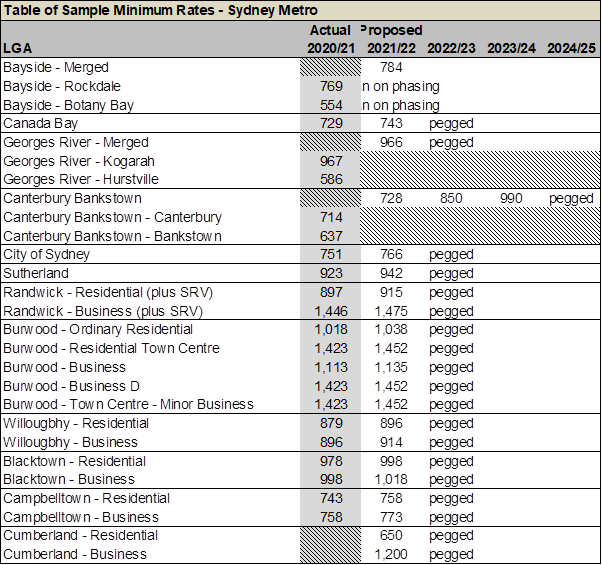 Council must apply to IPART by 1 March 2021 if it resolves to adopt a Minimum Rate above the statutory level of $565. IPART will conduct its own engagement process after Council submits its application.
In accordance with IPART guidelines, Council has informed the community that IPART will accept submissions about the Minimum Rate proposal, and has directed them to IPART's website for details about how and when to make a submission.
Conclusion
Council is legally required to harmonise its rating system and has limited flexibility in how it does that. While there will be a shift in the rate burden toward the former Marrickville area the proposed rating structure does align rates burden with the land values of the properties which bear them.
Recommendations include options to limit the immediate impact of changes on a community dealing with the impact of Covid19 among other things.
Council can consider its rating structure further over the coming months. It does, however, need to decide whether to apply to IPART for a new Minimum Rate for both the Residential and each of the Business-related categories and this is recommended.
| | |
| --- | --- |
| 1.⇩ | Rates Harmonisation - EOR - Final |
| 2.⇩ | Final Online Comments Appendix Rates Harmonisation |
| 3.⇩ | Final Written Submissions Appendix Rates Harmonisation |
| | Urbis submission rates on behalf of shopping centres - Confidential |